It's the best day of the year my ladies: Galentines Day!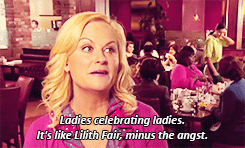 The one day a year where we can appreciate all of our gal pals and show them, love. But if you are anything like me, you still need some inspo for tonight's festivities.
Here are some of our favorite ways to celebrate Galentines Day
The Food
Whether it's Waffle's like from Parks and Rec or Cookies. Nothing get's a party started like some good food! These cookies from @beaverbagelco give us all the yummy vibes we need for this mornings.
The Decor
While we can't all go full out for decor, who doesn't love this set up by @dxdstyleboxed?!
But one fun tip: if you have a dollar store near you, you can buy those killer heart balloons we all love…you know for a DOLLAR.
What to Wear
The best part about Galentine's Day is dressing up! It doesn't matter if you are a leggings or borae girl like @elroseabel, you know you're girls are going to appreciate your look!
After all, there is no better time to look your best than with your girlfriends!
Have Fun
Finally, don't forget that this day is all about your friends. Enjoy spending time with the ladies who are with you for thick or thin.