It's hard to believe that Animal Crossing: New Horizon has already been out more than a month now. Since it's release on March 20th, many of us have gone from small little islands to full-blown towns with paths, bridges, and inclines.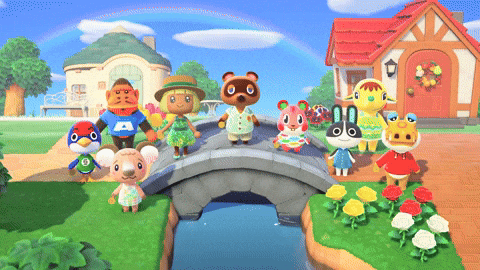 And while we all said goodby to Zipper and his excessive eggs last week, today we were finally given some details regarding Leif and some more exciting things to come in a video by Nintendo.
Leif and his Garden Shop 4/23
Beginning this Thursday on 4/23 in honor of Earth Day, we will see Leif stop by our islands to sell us some new type of flowers or bushes! These cute little round bushes can now be added to your island in both a start form or seed form as shown above.
Some of the rumored bushes include azalea, hibiscus, holly, hydrangea, camellia, osmathus acording to Ninji who did some datamining a few hours before the video was released.
Jolly Redd Treasure Trawler
Coming this April, we will also be introduced to Jolly Redd's Treasure Trawler. Here we can purchase art for our *museum.
*If you can find the real piece of art.
Museum Expansion
In part with Redd's artistic findings, we are also receiving an museum expansion to showcase all your art. While the video only shows a preview on what is to come, it's exciting to see a new exhibit is coming to our museums!
Upcoming Events
Finally here are some upcoming events that will be happening over the next two months:
Nature Day (4/23-5/4): Using your Nook Miles section on your phone, you will be given the opportunity to complete specific "Nature Day activities"
May Day (5/1-5/7): During these specific days, you have the option to go on a May Tour filled with fun garden filled island adventures. The video shows a maze-like island with items for you to pick up along the way.
International Museum Day (5/18-5/31): In Honor of International Museum Day: there will be a Stamp Ralley involving you to go to specific exhibits to claim your stamp.
Wedding Season (6/1-6/30): Go Visit Harvey's island during the month of June to check out some cool wedding props and take some fun wedding photos.
If you wish to see these updates and more; click the video below: